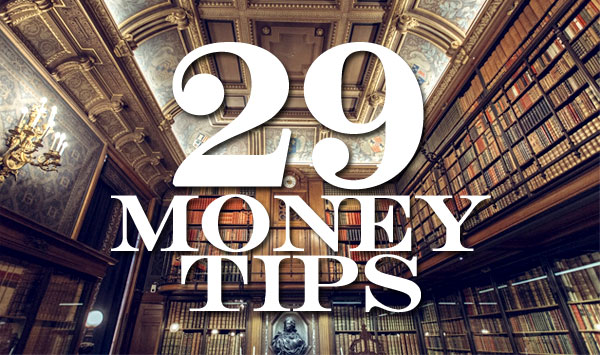 "Simply making decisions, one after another, can be a form of art." – John Gruber
So the other day I was feeling bored and pretty unproductive, and rather than waste even more of my time I decided to shoot a note to my online friends and see if I could learn something new. What they came back with was pretty juicy, so I thought I'd turn it into a blog post today instead of hoarding all the gems for myself 🙂
Here's what I asked them:
What's a quick trick you do with money? To save, invest, or pay down debt, etc?
And here were my favorite responses below – hope you find something to try!
Quick Tips on Saving Money
I've started paying myself a $10 penalty every time we eat out. 🙂 – WhatMoneyDoes.com
We do No-Spend Weekends where we take what we normally would spend (an average of $50) and put it towards our travel savings. – Write2Advance.com
All our "found" money goes in a piggy bank. We then set monthly purposes for side hustle money (mortgage, travel fund, etc.) – ShePicksUpPennies.com
Every time we do a load of wash we put $2 in a jar. (Insert "laundering money" punchline here.) Although technically earmarked for a replacement washing machine at some point, the cash recently went toward the purchase of a new fridge… You could also do it with other things, such as "put a dollar in the kitty every time you make a pot of coffee at home and pour some into your travel mug to take to work" or "put $20 in the jar every time you decide to eat leftovers instead of ordering that takeout or pizza." (Editor's note: Donna's daughter, Abby, currently has $560 saved up doing this $2 laundry trick already!) – Donna Freedman
I play around with compound interest calculators a lot, haha. It makes me super motivated to invest/save as must as possible. – TheFreedomFromMoney.com
Digit of course! – Valerie Rind
We live off one income and have the other income directly deposited into our savings account. This way we don't even see my income. – ReluctantLandlord.net
I treat my savings like a monthly expense and then pay the account interest if I don't make the payment on time. It gives great accountability. – DebtRoundup.com
When I get a discount on a bill (insurance, internet, cell phone), I set up and automate savings transfers. – CoupleMoney.com
I don't store credit card information online and I keep my wallet downstairs. 🙂 – WalletHacks.com
And one of my all-time favorite pieces of advice, "When you "save" money, be sure it actually goes in the bank account and doesn't just disappear into general spending." Amen, IPickUpPennies.net!
Quick Tips on Paying Off Debt
For other debt awesomeness, check out this tracker Jon put together tracking all the (significant!) amounts of debt that bloggers have killed so far. Pretty motivating! –> Debt Payoff All Stars
Quick Tips on Investing
Other Great Money Tips
I send the wife an almost daily net worth update. It keeps her motivation up and frivolous spending down. – Andrews Dad
My son has a new piggy bank, and I put my loose change in there because he likes the sound of money. Teaching 'em young to heart their dollars lol – Sarah Li Cain
For annual bills (i.e. life insurance, property taxes), I pay monthly into a savings account to have the money easily available when the bill comes due. I find it's easier to make a bunch of small payments, rather than coming up with one large amount. – BaldThoughts.com
I use Simple Bank for budgeting. – Will Parker
All of my bills are on auto pay and the rest of the categories come out as cash from the ATM. – Ev\m
Whatcha think? Any resonate with you? Gonna try any? Rocking some of your own?
If you're looking for even more tips (because, let's be honest, y'all are bad a$$es and probably do at least 90% of these already, right? :)) here are handfuls of other great ones for your perusal:
Happy $$$$, y'all!
*******
PS: Not following me on Twitter (@BudgetsAreSexy) or Facebook (Facebook.com/BudgetsAreSexy) yet? Come on over and extend the festivities!
This is a syndicated post, which originally appeared at Budgets Are Sexy. View original post.