Enter the minds of 40 top Billionaires from around the world and learn how the top 1% are able to reach success and grow their bank accounts to the 9 digit mark.
From Bill Gates to Mukesh Ambani, these billionaire quotes are priceless for anyone who aspires to be successful.
I hope you find massive inspiration from this collection of billionaire quotes.
Inspirational Quotes By Billionaires
:
Bill Gates
Business Magnate, Investor & Philanthropist
"It's fine to celebrate success but it is more important to heed the lessons of failure."
Donald Trump
American Business Magnate, Investor & TV Personality
"Part of being a winner is knowing when enough is enough. Sometimes you have to give up the fight and walk away, and move on to something that's more productive."
Cyril Ramaphosa
South African Politician & Businessman
''No action is too small when it comes to changing the world… I'm inspired every time I meet an entrepreneur who is succeeding against all odds''.

J. Paul Getty
Founder of Getty Oil Company
"Formula for success: rise early, work hard, strike oil."
Li Ka-Shing
Hong Kong Business Magnate & Philanthropist
"Vision is perhaps our greatest strength… it has kept us alive to the power and continuity of thought through the centuries, it makes us peer into the future and lends shape to the unknown."
Andrew Carnegie
Steel Magnate
"As I grow older, I pay less attention to what men say. I just watch what they do."
Oprah Winfrey
Talk Show Host, Producer & Philanthropist
"What other people label or might try to call failure, I have learned is just God's way of pointing you in a new direction"
Eike Batista
Brazilian Business Magnate
"Don't think you are unstoppable or foolproof. Don't think that the only way your business will work is through perfection. Don't aim for perfection. Aim for success."
Sheldon Adelson
American Business Magnate
"For me, businesses are like buses. You stand on a corner and you don't like where the first bus is going? Wait ten minutes and take another. Don't like that one? They'll just keep coming. There's no end to buses or businesses."
Tony Hsieh
Founder of Zappos
"Have fun. The game is a lot more enjoyable when you're trying to do more than just make money."

Henry Ford
Founder of Ford Motors
"If you think you can do a thing or think you can't do a thing, you're right."

Jeff Bezos
Founder of Amazon
"If you never want to be criticized, for goodness' sake don't do anything new."
Lakshmi Mittal
Indian Steel Magnate
"Hard work certainly goes a long way. These days a lot of people work hard, so you have to make sure you work even harder and really dedicate yourself to what you are doing and setting out to achieve."
John D Rockefeller
Founder of  the Standard Oil Company & Philanthropist
"If you want to succeed you should strike out on new paths, rather than travel the worn paths of accepted success."
Michael Bloomberg
Mayor of New York, Investor & Entrepreneur
"Getting the job done has been the basis for the success my company has achieved."
Steve Jobs
Founder of Apple
"Don't let the noise of others' opinions drown out your own inner voice. And most important, have the courage to follow your heart and intuition."
Mark Zuckerberg
Founder & CEO of Facebook
"The biggest risk is not taking any risk… In a world that changing really quickly, the only strategy that is guaranteed to fail is not taking risks."
Stefan Persson
Founder of H&M
"Loyalty is not won by being first. It is won by being best."
Chuck Feeney
Businessman & Philanthropist
"There has to be a balance in life. A balance of business, family, and the opportunity to learn and teach."

Azim Premji
Indian Businessman & Philanthropist
"If people are not laughing at your goals, your goals are too small."
Richard Branson
Founder of Virgin
"A business has to be involving, it has to be fun, and it has to exercise your creative instincts."
Ted Turner
American Media Mogul
"You can never quit. Winners never quit, and quitters never win."
Billionaire Shark Tank Investor & Owner of The Dallas Mavericks
"Sweat equity is the most valuable equity there is. Know your business and industry better than anyone else in the world. Love what you do or don't do it."
Clive Palmer
Australian Businessman & Politician
"I realised that in a lot of failures, there is a lot of opportunities."
Ingvar Kamprad
Founder of IKEA
"The most dangerous poison is the feeling of achievement. The antidote is to every evening think what can be done better tomorrow."
Elon Musk
Founder of PayPal, Tesla Motors & SpaceX
"I think that's the single best piece of advice: constantly think about how you could be doing things better and questioning yourself."
Isabel dos Santos
Angolan Investor
"If you are hardworking and determined, you will make it and that's the bottom line. I don't believe in an easy way through''.

Michael Dell
Founder of Dell Computers
"Whether you've found your calling, or if you're still searching, passion should be the fire that drives your life's work."
Al-Waleed bin Talal
Saudi Arabian Businessman & Investor
"If I'm going to do something, I do it spectacularly or I don't do it at all."
Carlos Slim Helu
Mexican Business Magnate & Philanthropist
"When there is a crisis, that's when some are interested in getting out and that's when we are interested in getting in."
Sam Walton
Co-Founder of Walmart
"High expectations are the key to everything."
Bernard Arnault
Founder of Louis Vuitton, Moet & Hennessy
"I think in business, you have to learn to be patient. Maybe I'm not very patient myself. But I think that I've learned the most is be able to wait for something and get it when it's the right time."
Aristotle Onassis
Shipping Magnate
"After a certain point, money is meaningless. It ceases to be the goal. The game is what counts."

H. Ross Perot
American Businessman
"Most people give up just when they're about to achieve success. They quit on the one yard line. They give up at the last minute of the game one foot from a winning touchdown."
Stephen Saad
South African Entrepreneur
"In Life, you don't get anywhere or do anything you hope to without some sort of sacrifice''.
Mukesh Ambani
Indian Business Magnate
"I think that our fundamental belief is that for us growth is a way of life and we have to grow at all times."
Larry Ellison
Founder of Oracle
"When you innovate, you've got to be prepared for everyone telling you you're nuts."
Sara Blakely
Founder of Spanx
"Failure is not the outcome – failure is not trying. Don't be afraid to fail."
Tyler Perry
Film Producer/Actor
"I've never chased money. It's always been about what I can do to motivate and inspire people."
Nick Woodman
GoPro Founder
"I feel like in a world where we all try to figure out our place and our purpose here, your passions are one of your most obvious guides."
Bernard Arnault
CEO of LVMH
"Money is just a consequence. I always say to my team, 'Don't worry too much about profitability. If you do your job well, the profitability will come."
Warren Buffet
CEO of Berkshire Hathaway
"It's better to hang out with people better than you. Pick out associates whose behavior is better than yours and you'll drift in that direction."
Charles Koch
CEO of Koch Industries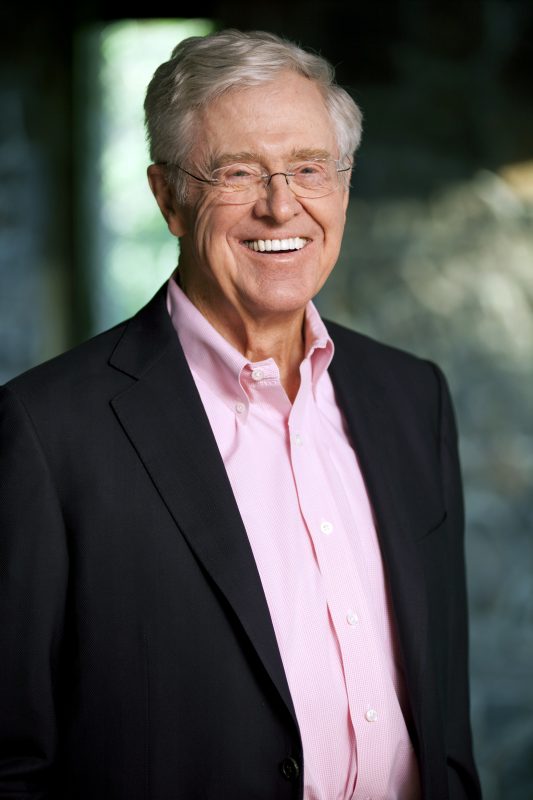 "People should only profit to the extent they make other peoples lives better."
Amancio Ortega
Founder of Inditex
"The customer has always driven the business model."
Which one of these quotes is your favorite and why? Share with us below!